Benefits of the ClickZip Retractable Safety Syringe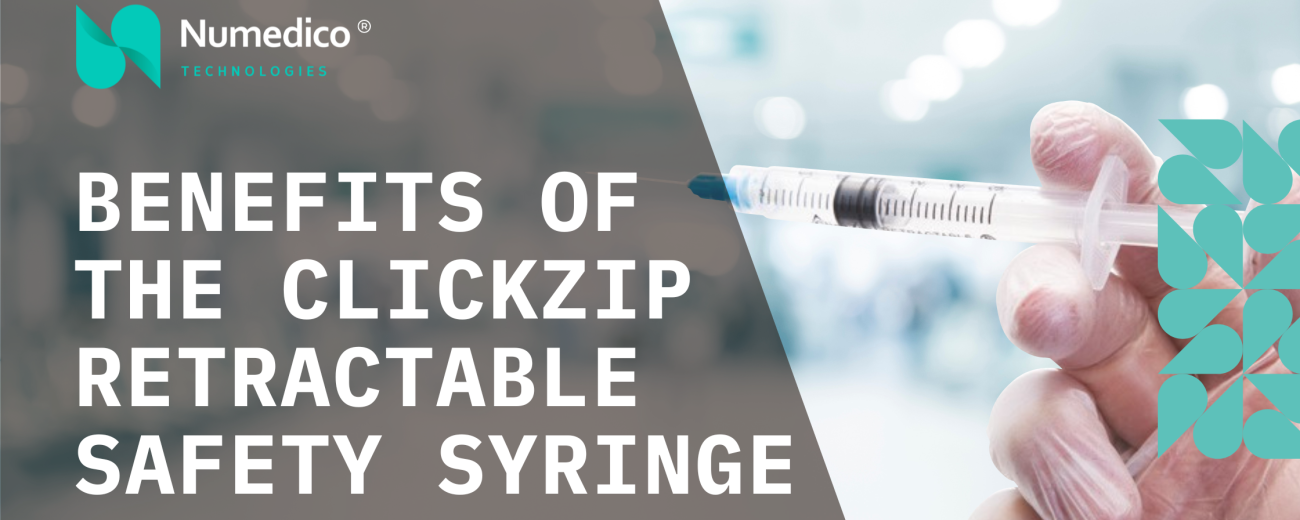 According to the World Health Organization, an estimated 16 billion injections are administered worldwide yearly! It also implies that about 16 billion needles are used each year globally.
A syringe is an essential instrument in hospitals and healthcare institutions worldwide. It has facilitated the efficient and rapid administration of medicines, vaccinations, and antibiotics. Even though it appears to be an essential gadget, its innovation has revolutionized the course of treatment and led to the saving of millions of lives.

Despite the numerous advantages and implications of this life-changing technology, there are over 250,000+ needlestick injuries each year in the USA, which can often result to illnesses and in some cases death. Read more about how to prevent NeedleStick Injury here. 
Numedico has developed an innovative solution that eliminates reuse and prevents needlestick injury owing to its innovative tilted needle technology that seals the needle in the syringe barrel. The features and benefits of the Innovative ClickZip retractable safety needles are listed below:

Highest-quality Japanese-designed stainless steel cannulas

Latex free

No leakage

No gap – minimal dead space

Active-retractable needle technology – manual retraction

After the injection is given, the user can retract the needle before or after removing the needle from the patient

No change to the injection technique

When retracted after use, the needle tilts to one side into the syringe barrel

The barrel incorporates the needle back-stopper

The user can hear and feel when the locking mechanism is activated



Say goodbye to discomfort, disease spreading, and needle exposure with the ClickZip Retractable Safety Syringe!
For more information about the ClickZip Retractable Safety Syringe, click here. https://numedico.com/product/clickzip-tm-needle-retractable-safety-syringe-range

Subscribe to Numedico News.